At one point, for several months after finishing
Come See About Me
, I considered writing another book focused on a main character in his or her early adult years. I had a couple of ideas floating around at the time — one centred around an eighteen year old guy recently out of high school and who would've been in university if not for other issues in his life, the other was about a twenty-year-old girl who leaves college to help take care of her older sister's young kids when her sister is struck with cancer. Although I've penned more young adult fiction than anything else, the characters I'm interested in writing about aren't solely ones that fit comfortably in the young adult range and actually extend from twelve to twenty-two or so. That could mean delving into middle grade, young adult or new adult fiction, except that I don't really buy into new adult as a viable category that exists outside of romance fiction anymore.
Nearly all of the new adult books I've seen reviewed or even mentioned fall into a very narrow type — steamy romances between 18 - 25 year olds. I know there surely must be other books dealing with a wider variety of subjects that either aren't garnering anywhere near the same level of interest as the heated romances or perhaps are simply sitting on hard drives because writers don't know quite what to do with them. Then there are novels (not many) that deal with college-age protagonists but have been published as young adult fiction - e.g.
Something like Normal
(Trish Doller),
Just One Yea
r (Gayle Foreman),
Love Story
(Jennifer Echols).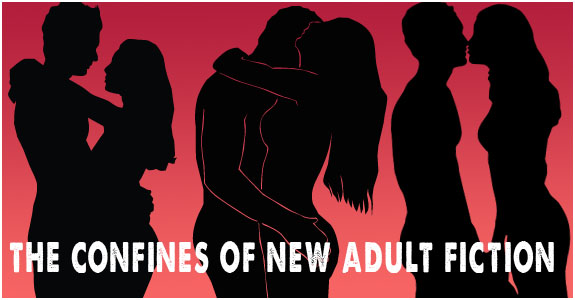 Personally, I'd love to read more books about young people who have left high school behind and are beginning to make their way into the world of adulthood. It's a time of countless possibilities — education, careers, emotional growth to name a few — yet the novels being published as NA for the most part only seem to explore love and sex, and explore them in a very similar manner at that. There's nothing wrong with romance, of course, but currently there doesn't seem to be much room inside NA for stories that don't focus heavily on sex and love, and which seem to see the subject through a very similar lens to one another.
Maybe that wouldn't really matter if the area outside the NA umbrella wasn't largely a dead zone for books about 18 - 25 year olds. If there were ample space for those characters within adult fiction, for example. When I first sent out
Come See About Me
I considered it an adult book. Then traditional publisher after traditional publisher told my agent
Come See About Me's
main character, Leah, and the treatment of her situation was too young for adult fiction and too grown for YA, and I figured it must be new adult fiction instead. Where else could the book possibly fit?
Right now it doesn't fit anywhere, as far as I can see — neither in terms of traditional publishers nor the indie publishing scene — and neither would the other novels with slightly older than YA characters I would've written if there were a place for them.
I wish this wasn't the case; I wish NA had been the answer, a space for those characters to comfortably exist. But it isn't. Not the way the
genre
or whatever you want to term it stands now.
For now, I've stopped thinking of
Come See About Me
as new adult fiction and, for lack of an approachable market, will leave similar endeavours to writers with either better luck or greater adeptness in carving out a place for stories about 18 - 25 year old characters that don't fall inside the confines of the current new adult mold.