Yes, February made me shiver. This winter has been unusually brutal, extremely cold and snowy with very few breaks. And I can't believe we lost Philip Seymour Hoffman and Harold Ramis before their times. Such sad news.

This month I also started going to physio for knee and arch woes (ouch!). My dad's furnace broke down and had to be replaced and my mom was in her third snow-related car accident (thankfully she's fine but her car was totalled) within six weeks. So February hasn't been the best of times, but neither has it been the worst of times and I wanted to blog about some of the good things that happened this month before it gets away from me.

Things like Paddy having Valentine's Day off which allowed us to spend the day together. We spent part of it tromping around Oakville in the snow. Indeed the laneways were such a wintery white that the town nearly appeared like someplace else.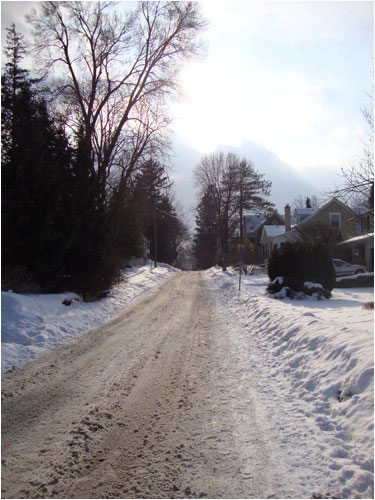 Below you can see Oakville's " Homecoming Trail" looking ever so pretty in the snow. If you gaze closely enough you'll see the pier jutting off to the left. Even years after writing
Come See About Me
the location always make me think of Leah and Liam!
I felt a bit sorry for this reindeer buried under layers of snow in a Christmas arrangement outside a local business. Surely with the holiday long behind us the reindeer should be off duty by now and allowed to go on its merry way?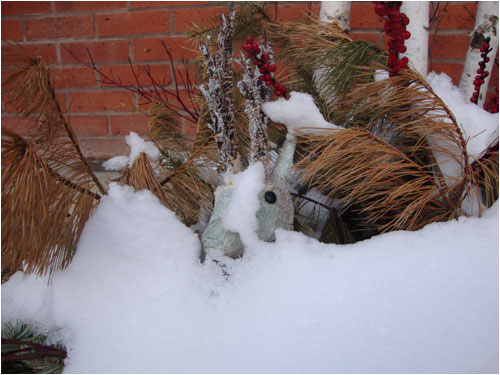 Wonderful Canadian author
Monica Kulling
(who penned the Mister Dash books and the
Great Ideas
series) very kindly sent me a copy of her beautiful new picture book,
The Tweedles Go Electric
this month. Thanks so much, Monica!
The Tweedles
have already garnered a glimmering star from
Kirkus
which described the book as, "A fine joke, well-delivered, and as clever as it is timely."
And here's what I had to say on
Goodreads
:
"The clever Tweedle family are bound to attract a slew of young fans with this infectiously fun and visually fetching tale. I wanted to jump into the book the way Mary Poppins and her young charges did with chalk drawings, and stay there awhile."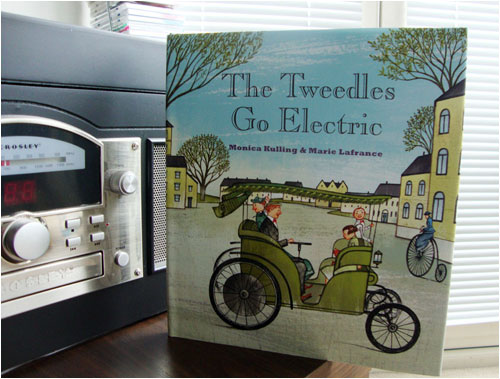 Don't you just love the Tweedles' spiffy green electric automobile? Every time I look at the cover I like to pretend I'm the woman on the Penny Farthing bicycle.
I couldn't possibly talk about February without mentioning the fantastic
Blue Rodeo
gig Paddy and I caught at Massey Hall on the 20th. If you live in the GTA you'll remember that day as the one we caught unexpected late afternoon/rush hour snow which turned to evening rain. But what better way to spend a rainy night than watching Blue Rodeo play most of the tracks from their new album,
In Our Nature
, as well as old favourites like
Rose Coloured Glasses
and
5 Days in May
? You can take a look at the entire setlist
here
.
We were fortunate to have fourth row centre tickets and from my seat I had a good view of one of the security folks singing along with
Head Over Heels
(he knew all the words) in the centre aisle.
Below are a handful of concert shots I took on the night, and to hope that the rest of the month will be as much fun as the Blue Rodeo show would be wildly unrealistic, but at least I have The Tweedles and their world to keep me company. There's no snow where the Tweedles live, I've noticed, and no chilly temperatures. No need for snow tires or outerwear any heavier than a blazer!