JUST LIKE YOU SAID IT WOULD BE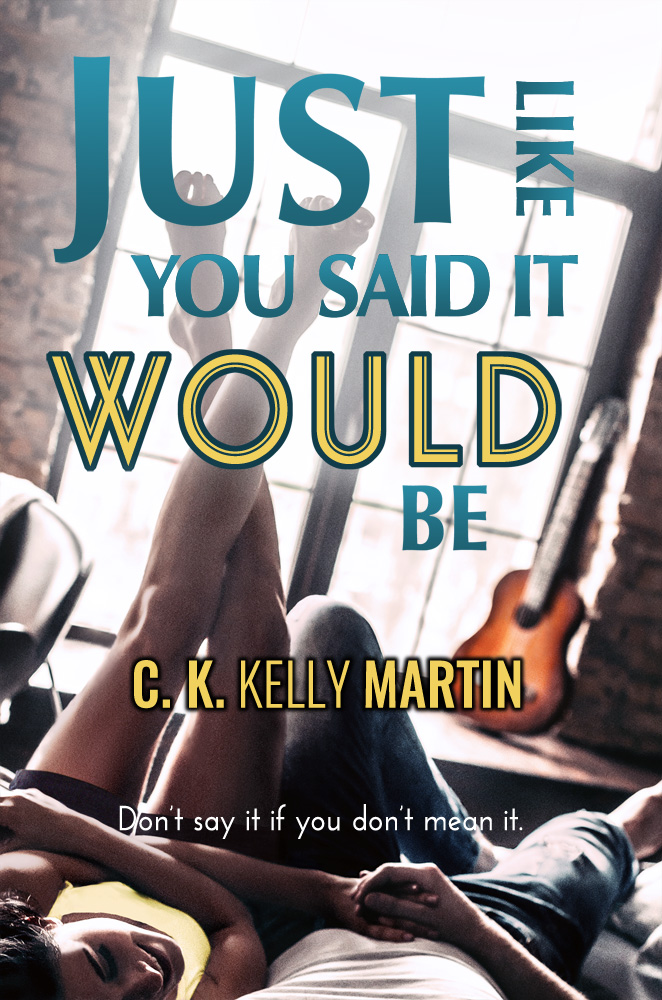 How do you make something feel finished?
On New Year's Eve seventeen-year-old Amira texts the Irish ex-boyfriend she's been missing desperately since they broke up at the end of summer, when she returned to Canada. They agreed they wouldn't be friends, that it would never be enough. But that was then—back when Amira's separated parents had shipped her off to relatives in Dublin for the summer so they could test-drive the idea of getting back together on a long haul cruise. Back when Amira was torn away from a friend in need in Toronto only to fall in love with a Dublin screenwriting class and take a step closer to her dream career. And only to fall for cousin Zoey's bandmate, Darragh, the guy who is first her friend, then her enemy and later something much more complicated—the guy she can say anything to, the guy who makes every inch of her feel wide awake in a way she hadn't known was possible. The guy she confides in about the dead sister she has no living memories of but who has remained with Amira nonetheless. The guy she might never see again. Or is there, despite the distance, somehow still a chance for them?
Chock-full of movie references and giddy love for Dublin, Ireland,
Just Like You Said It Would Be
is a frank exploration of the extraordinary highs and shattering lows of first love that will appeal to fans of Jennifer Echols, Tara Kelly, Sarra Manning, Trish Doller, and Kirsty Eagar.
©
2017
ISBN-10
: 1542749468
ISBN-13
:
9781542749466
ASIN: B01MUNS18T
Reading Level: Fourteen and up
I acknowledge the support of the Canada Council for the Arts, which last year invested $153 million to bring the arts to Canadians throughout the country.


Nous remercions le Conseil des arts du Canada de son soutien. L'an dernier, le Conseil a investi 153 millions de dollars pour mettre de l'art dans la vie des Canadiennes et des Canadiens de tout le pays.
• Few writers follow the push and pull of a young relationship as deftly as C. K. Kelly Martin...How does one recover from the absence of the love of one's life?
Just Like You Said It Would Be
follows this process though a riveting set of emotional ups and downs and revelations that will keep readers wondering about the outcome till the end. It's highly recommended for teens on the cusp of adult relationships themselves who would learn much from Amira's evolution.
— Diane Donovan,
Midwest Book Review
• So perfectly capture(s) the passionate intensity of first love... teens will be sure to connect to Amira's maturity as she struggles to sort out the intensity of her emotions. Adult readers will most likely find themselves dredging up deeply treasured memories about this age in their own lives."
***½ /4, Highly Recommended
— Joanie Proske,
CM Magazine: Canadian Review of Materials
• This novel drew me in from the first page and I was not able to put it down...It was so well-written and full of different and complex characters that I found myself easily invested ...Teen and YA readers will easily identify with the uncertainty that comes with growing up, going away to college, first loves, etc. Adult readers—prepare to find yourself quickly being swept away in the nostalgia of your own experiences at the age. Whether it was joy, curiosity, anger, worry, or sadness, author C.K. Kelly Martin perfectly captures the varying emotions associated with that age.
—
Dandelions Inspired
• The powerful first chapter captured me and made me want to read more. The emotions Amira feels are so well written that it brought me right back to the moments in my life where I felt that sad, scared and lonely and missing "the guy"...The writing is just perfectly detailed and the writing when describing any level of emotion is excellent.
—
Bookshipper
• The air feels crisper, and the world more alive than in most other YA. It's filled with sass, and zippy dialogue, and tender feelings that have to be protected, and the cavernous, shaky unknown of ... is this thing between them the best thing ever, or is it nothing at all? ...This could easily be a TV series—a good one. Richly drawn characters, sympathetic lead, a central relationship with both sharp edges and soft spots, tons of conflict, great setting...
— CC,
Goodreads
• Amira is perhaps one of the most most deeply introspective 16 year olds that I've read. She has a rich internal dialogue and is also a character that is very empathetic and sympathetic. She's experienced great loss, is facing the possible demise of her parents' marriage. The summer she spends in Dublin opens her up to finding herself. Martin does an amazing job creating a character with the kind of personality open to the exploration and growth she embarks on. She's spirited and yet contemplative and smart enough to understand the impact of the vast change she is experiencing.
—
Once Upon A Page
• The beginning of the book is slow, and there is what feels like too much unnecessary and irrelevant information. As the book progresses, however, we see that everything is relevant. This is not just a sanitized summer romance, but a true coming-of-age story ... a touching tale of first love, growing up, and realizing that real life isn't a fairy tale.
—
Books Direct
• You can't see me (I hope), but right now I am holding up my e-reader and declaring: This is why I read young adult novels!...The emotions between the characters are palpable and the "sex" means something, which I have to admit has not been obvious in the other books I've read lately where it is a rote act and makes you want to skip pages. I didn't skip these pages. Everything was an amazing discovery ... What made
Just Like You Said It Would Be
really work for me was that it felt real.
—
Sascha Darlington's Microcosm Explored
• Is there anything more potent, more intoxicating than first love?... I loved the geography of the book, especially that most of it took place in Ireland. It gave the story a magical, almost ethereal quality at times....The writing is fresh and modern, the story is incredibly relatable, and the characters are dynamic and three-dimensional.
—
Reads & Reels
• The music is almost a character itself within ... I thoroughly enjoyed the characters and found the primary setting of Dublin to be stunning. This is a contemporary book that will leave you entranced with the complex characters and the overall plot.
—
To Be Read
• Intoxicating...the characters are real and heart-felt, and easy to relate to.
Just Like You Said It Would Be
is a great first love story.
—
Stellar Book Blog
PURCHASE INFO
• Paperback copies available from
Indiebound
|
Amazon.ca
|
Amazon.com
|
Amazon.co.uk
|
Barnes & Noble
|
Book Depository
• Kindle copies:
Amazon US
|
Amazon CA
|
Amazon UK
|
Amazon FR
|
Amazon IT
|
Amazon DE
|
Amazon JP
|
Amazon ES
|
Amazon AU
|
Amazon BR
|
Amazon IN
• ePubs available from
Kobo
|
Apple/iTunes
|
Angus & Robertson
|
Barnes & Noble
|
Smashwords