How did nearly two weeks elapse without me posting to my blog? I'm so behind on...well,
tons
of things. But a few things have happened recently that I really want to mention. For one, I've created a brand new website for
Come See About Me
. Unsurprisingly it's called
Come See About Me.com
and I've started posting snippets of blog reviews of the novel there. You can also download the first seven chapters in pdf form and there's an extras page with a playlist and setting photos of Oakville (where Leah spends most of her time during the book). It's a gorgeous town and I'm not just saying that because I live there, but I do feel extremely lucky, on an almost daily basis, to be here.
Secondly, yesterday
Stacked
posted a wonderfully insightful, detailed review of
Come See About Me
up that makes me feel like I've done something right (Thank you, Kelly!). Here's the chunk that I put up on my review page:
"There's a very fragile balance of being on your own for the first time and learning that...you're not as shielded from pain as you think you are. It's that last part that will make this book appealing to both older teens who are mature enough to handle the intimacy aspect, and it's this very last part that will make this book appealing to adults, as well...Martin's book is the real deal and will appeal to those who like contemporary fiction, strong characters, emotionally powerful stories, and who enjoy their sex steamy."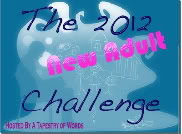 Thirdly, I'm over at
A Tapestry of Words talking about Come See About Me
and "New Adult" fiction and giving away several copies of the book including a signed paperback. So drop on over for a chance to win! A Tapestry of Words also has a fantastic
"New Adult" reading challenge
running right through to the end of 2012. My interest in reading and writing about young characters doesn't end with high school graduation and I'm sure other people feel similarly so it's great to see books about young people who are at a more independent stage in their lives finally getting some limelight. Right now I'm in the middle of reading
Nick Earl's
Bachelor Kisses
(three characters in their mid-twenties share a house in Brisbane) and recently finished
Blake Nelson's
Girl
sequel,
Dream School
. With a bit of a boom in "New Adult" fiction currently going on I look forward to checking out more titles.
Finally, some
Yesterday
news. I've posted the prologue and
first chapter of Yesterday on the website
. For research purposes I had to spend a hell of a lot of time listening to 80s radio stations while writing this book and I have to confess that some days there was a fog of nostalgia in my apartment so thick that I could almost forget that I'm living in the twenty-first century. The 80s just
feels
so close in my head (how I miss my old Atari! and how well I remember my excitement at finally getting a VCR in 1986!) and when Paddy and I went to see
Rock of Ages
last week inside I was singing along to every song. I guess you never forget the lines to the hit songs from your youth, even when they're as silly as: "Pour some sugar on me." I was more into new wave than hard rock in the 80s but I enjoyed alot of the rock stuff too and there's nothing like a a great rendition of
Here I Go Again
or
Cum on Feel the Noize
to convince a person that going big with their hair and pouring themselves into skintight red leather pants is a good idea.
Anyway, the other thing about
Yesterday
is that I've had the trailer ready for months
but I'm finally posting it tomorrow on
CANADA DAY
. So you can check my website or blog and find it on either place. Happy Canada Day weekend to all my fellow Canadians, no matter where you may be! I wish you much barbecue goodness and fun firework displays.