MY BEATING TEENAGE HEART
Ashlyn Baptiste
is falling. One moment she was nothing—no memories, no self—and then suddenly, she's plummeting through a sea of stars. Is she in a coma? She doesn't remember dying, and she has no memories of the life she left behind. All she knows is that she's trapped in a consciousness without a body and she's spending every moment watching a stranger.
Breckon Cody's
on the edge. He's being ripped apart by grief so intense it literally hurts to breathe. On the surface, Breckon is trying to hold it together for his family and his girlfriend, but underneath he's barely hanging on.
Even though she didn't know him in life, Ashlyn sees Breckon's pain, and she's determined to find a way help him. As her own distressing memories emerge from the darkness, she struggles to communicate with the boy who can't see her, but whose life is suddenly intertwined with hers. In alternating voices of the main characters, My Beating Teenage Heart paints a devastatingly vivid picture of both the heartbreak and the promise of teenage life—a life Ashlyn would do anything to recover and Breckon seems desperate to destroy.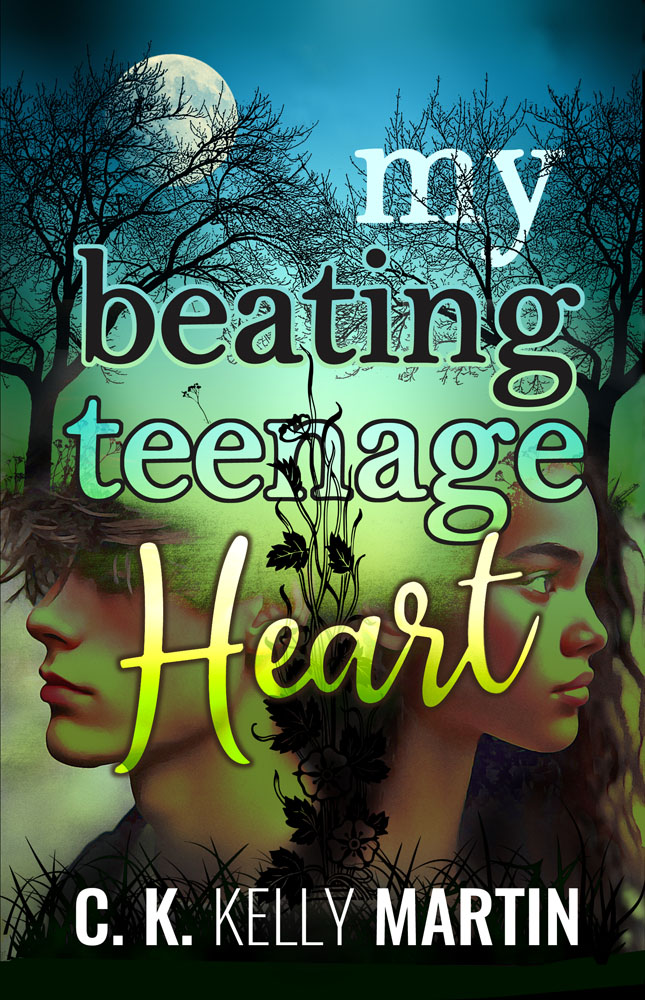 ✮

READ CHAPTER ONE

|

✮

SEE PLAYLIST

originally published by Random House

©

2011

Current edition

©

2017 ISBN-10

: 1548692972

ISBN-13

: 978-1548692971

Reading level: Young Adult and up

✔
Shortlisted for the Canadian Library Association's Young Adult Book Award 2012

Amazon's Best YA Book of the Month, October 2011 Ashlyn Baptise doesn't know where she is. Now somehow without a body she still exists in consciousness, and she finds herself drawn to a stranger. Brecken Cody is out of sorts, too. Having recently lost his sister, for which he feels partly to blame, Brecken is in the throes of grief. It is hard to talk about this novel without giving away a pivotal plot point but that the way in which Martin reveals how Brecken and Ashlyn are intertwined was unexpected—and amazing. Voice really drives the novel, making it impossible not to root for both characters as they try to navigate new emotional (and in Ashlyn's case, physical, too) experiences. In the vein Gayle Forman's If I Stay and Jenny Downham's Before I Die, My Beating Teenage Heart is the type of novel that will remain with you long after you've read the last page.

The voices of Ashlyn and Breckon will resonate long after the novel is read. Their dilemmas are real and timeless. Martin has written a teen angst novel filled with all the "big questions" of life . . . The book may wake the reader up to all the unrecognized beauty life has to offer. It has a strong anti-suicide twist and if it saves one depressed teen's life, the novel will have earned its place on your shelf.
— VOYA
Martin's novel looks at loss from two different, eloquently conveyed perspectives—that of the living, and that of the dead...In a beautifully mysterious opening chapter, newly deceased Ashlyn has no idea who or where—or even what—she is . . . Martin gradually pieces together the puzzle of how the two characters' stories intersect and shows that, in whatever form one finds oneself, life goes on.
— The Horn Book Magazine
From the very start I knew I would love this book. The first page is so unique and mysterious that I had to read on. Once I started, it was hard to stop . . . Four-and-a-half stars out of five.

The novel looks at friendships, relationships and love and their role in assisting us when we are most distraught and lack the strength to help ourselves. Martin pokes and prods at the wounds left by grief and helps readers feel and understand Breckon's emotions. Yet, while the book is realistic and very dark in places, the overwhelming sense as one closes the cover is positive . . .What a wonderful novel! Highly Recommended.
— CM Magazine: Canadian Review of Materials, **** /4 Highly recommended
My Beating Teenage Heart is a masterpiece. A raw and gorgeous look at death through the eyes of two unforgettable narrators. It forces you to think about the time you have, the life you make for yourself, and what you'll leave behind when you go.
— Courtney Summers
Martin brings the same exquisite writing style to this narrative as to her previous works.
— Kirkus Reviews
C.K. Kelly Martin once again showcases her talent for putting the emphasis on character-driven narrative...The character development is detailed and interesting, and Martin works in lots of angsty situations that will likely keep the target audience reading until the end.
— Quill & Quire
Similar in tone to Jenny Downham's Before I Die, but with a supernatural tinge not unlike Lauren Oliver's Before I Fall, this novel is a somber but ultimately optimistic depiction of the grieving process . . . The reassuring ending contains just the right amount of hope. — School Library Journal
Sometimes you read a book that just leaves you a little breathless. One that you go into expecting something and leave having taken a lot more than you thought you would. That was the experience in reading CK Kelly Martin's latest, My Beating Teenage Heart . . . easily at the top of my 2011 favorites list.
— Stacked
Breckon's feelings are so realistically written just reading about them is painful...this book is a beautifully written story and a good read for older readers interested in more philosophical stories.
— Childrens Literature
Full of the sensibilities of Lurlene McDaniel without the romantic schmaltz, this heart-rending story will appeal to teens fascinated by the emotions that accompany the death of young people.
— The Bulletin of the Center for Children's Books
A moving and beautifully written story that is both heartwarming and heartbreaking...Anyone who has ever lost someone will be able to relate to Breckon's struggles, while being comforted by the hopeful and lovely ending of the book.
— StorySnoops
.

PURCHASE