YESTERDAY & TOMORROW
The Yesterday duology "Yesterday & Tomorrow" is now available bound together as a single paperback at
Indiebound
,
Amazon.com
,
Amazon.ca
,
Amazon.co.uk
(and other Amazon outlets),
Barnes & Noble.
and
Book Depository
. You can also purchase it for
Kindle on Amazon
,
Amazon.ca etc
. and buy it as an ePub on
Barnes and Noble,
Kobo
,
iTunes
,
Angus & Robertson
and
Smashwords.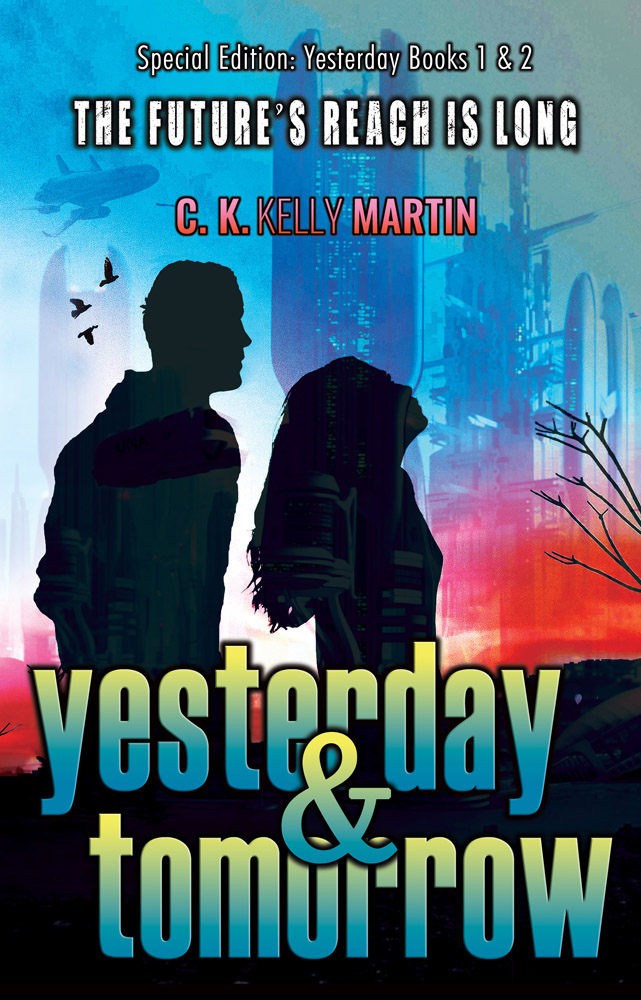 © 2016
Reading level: Young Adult and up
ISBN-10: 1537047531
ISBN-13: 978-1537047539
---
YESTERDAY (BOOK 1)
The future's fast collapsing.
THEN: The formation of the UNA, the high threat of eco-terrorism, the mammoth rates of unemployment and subsequent escape into a world of virtual reality are things any student can read about in their 21st century textbooks and part of the normal background noise to Freya Kallas's life. Until that world starts to crumble.
NOW: It's 1985. Freya Kallas has just moved across the world and into a new life. On the outside, she fits in at her new high school, but Freya feels nothing but removed. Her mother blames it on the grief over her father's death, but how does that explain the headaches and why do her memories feel so foggy? When Freya lays eyes on Garren Lowe, she can't get him out of her head. She's sure that she knows him, despite his insistence that they've never met. As Freya follows her instincts and pushes towards hidden truths, the two of them unveil a strange and dangerous world where their days may be numbered. Unsure who to trust, Freya and Garren go on the run from powerful forces determined to tear them apart and keep them from discovering the truth about their shared pasts (and futures), her visions, and the time and place they really came from.
originally published by Random House
©
2012
Current Edition
© 2016
ISBN-10
: 1537065637
ISBN-13
: 978-1537065632
Reading level: Young Adult and up
DISTINCTIONS
•
Shortlisted for the Canadian Library Association's Young Adult Book Award 2013
• Starred Review, School Library Journal
REVIEWS
• Martin weaves a wonderfully dystopian tale of deception, betrayal, and heartache as she takes her readers on a journey through the past and the future, at once showing them the destruction of a nation and the rebuilding of a species... Bringing together elements of political intrigue, ecological disaster, romance, thrilling chases, and time bending, Martin has crafted a truly wondrous and unique fictional tale.
~
CM Magazine: Canadian Review of Materials
, ***½ /4
Highly recommended
• Sci-fi thrillers are hot right now, and Yesterday does not disappoint...patient readers will be rewarded and will clamor for a sequel.
~
School Library Journal
, Starred Review
• C.K. Kelly Martin's novel has all the makings of good speculative fiction fused with a nostalgic nod to the music scene of the 1980s. Martin writes of a bleak future that is reminiscent of Aldous Huxley's dystopian classic Brave New World...
~ VOYA
• A vivid infusion of 1980s culture gives this near-future dystopia an offbeat, Philip K. Dick aura...The cultural homage is nostalgic fun, from Care Bears to MacGyver. But for delivering that uniquely '80s flavor, nothing beats music. Fans of the Smiths, Depeche Mode, Scritti Politti—this one's for you.
~
Kirkus Reviews
• This is time travel the way I like it, no, love it...The ending is — well, perfect. One of the best final lines in a book, ever. Fingers crossed, there will be a sequel.
~ A Chair, A Fireplace and A Tea Cozy,
School Library Journal Blog
• Yesterday is a compelling novel that will take up permanent residence in your mind and haunt you, continually leaving you suspended in its spell until the very last page. Martin's ability to manipulate the laws of time and space to create a fantastical fictional world is exceptional.
~
The National Post
• A satisfying, original blend of time-travel thriller, science fiction and romance, this white-knuckle read is more Jason Bourne than Katniss Everdeen.
~
Quill & Quire
• [The] intriguing beginning plays with perception and reality in a layered plot that never quite lets readers know where they stand... The slow development of the star-crossed romance (combined with Martin's chick-lit pedigree) will ease unfamiliar readers into the dystopian genre.
~
Bulletin of the Center for Children's Books
• A prologue gives just enough foreknowledge to tantalize readers, and the surprise ending ties everything together satisfyingly. Teen readers will find much to discuss in this thought-provoking story.
~
Childrens Literature
•...there's a good deal of charm in Freya and Garren's relationship and the fleshed-out supporting cast (particularly Freya's mother and her classmates), as well as some well-written action sequences (and one intensely erotic scene) late in the book.
~
Publishers Weekly
• What I love about Yesterday is that it's so different from, say, I KNOW IT'S OVER, but at the same time, the earmarks of the author's writing are still present. Some writers change their style to adapt to different genres, but C.K. Kelly Martin is like your favorite band. They can go experimental and try a new direction on their next album, but as soon as you hear that first guitar riff, you know who it is.
~
Happy Owl Books
• I don't think I've ever read a novel quite like Yesterday before! The plot unravels slowly like a psychological thriller before picking up its pace to add in dystopian and science fiction elements. With a combination of suspense, romance and mystery, Yesterday is definitely my new favourite novel written by C.K. Kelly Martin!
~
Midnight Bloom