I KNOW IT'S OVER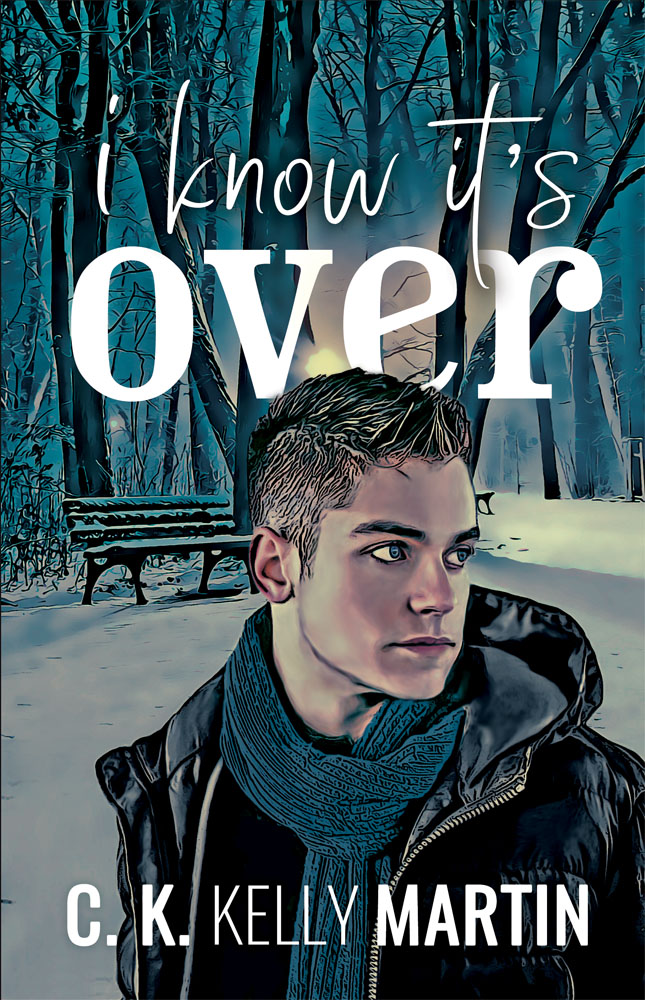 Pure. Unplanned. Perfect. Those were Nick's summer plans before Sasha stepped into the picture. With the collateral damage from his parent's divorce still settling and Dani (his girl of the moment) up for nearly anything, complications are the last thing he needs.

All that changes, though, when Nick runs into Sasha at the beach in July. Suddenly he's neck-deep in a relationship and surprised to find he doesn't mind in the least. But Nick's world shifts again when Sasha breaks up with him. Then weeks later, while Nick's still reeling from the breakup, she turns up at his doorstep and tells him she's pregnant, and with his emotions and hopes crashing in around him, Nick finds himself struggling once more to understand the girl he can't stop caring for, the girl who insists that it's still over.

Beautifully written, richly layered, and intensely readable, first-time author C.K. Kelly Martin's

I Know It's Over

shows how high first love can take us, and how great its loss can be, in this passionate, powerful and heartbreakingly honest debut.

✮

READ CHAPTER ONE

|

✮

SEE PLAYLIST

originally published by Random House

©

2008

Current edition

©

2017 ISBN-10

: 1548692336

ISBN-13

: 978-1548692339

Reading level: Young Adult and up

✔
The New York Public Library's Stuff for the Teen Age 2009 list
✔
Kirkus Reviews Best Young-Adult Books of 2008 list
✔
Cybils 2008 Young Adult Fiction Finalist
✔
Nominated for ALA Teen Quick Picks list 2009 and ALA Best Books for Young Adults list 09
✔
Included in the 2008-2009 CanLit for Teens list of recommended books for high school libraries
✔
Starred Reviews, Publishers Weekly and Kirkus

Authentic and sophisticated.

Debut novelist Martin displays uncanny insight, replacing the issue-driven engine common to most pregnant-teen stories with an emotionally complex and disarmingly frank coming-of-age tale.
— Publishers Weekly, Starred Review
Without a trace of hysteria or overwrought sensibility, Nick's layers are peeled back with unstinting honesty as he works through the seldom-explored guy's side of first (embarrassing, fumbling) sex, a wounding breakup, and teen pregnancy.
— The Bulletin of the Center for Children's Books
This full-throttle novel totally nails teenage romance — the dizzying depths of infatuation and the inevitable heartbreak.
— Denver Post
"C.K. Kelly Martin's first young adult novel is frank to the point of almost being brutal and yet so sincere that readers are totally immersed in the main characters and suffer the highs and lows of their relationship right along with them . . . Some critics may find this novel too gritty and detailed for teen readers, but I applaud Martin for her intelligent characters and her sensitive portrayal of their honest reactions and emotions."
— CM Magazine: Canadian Review of Materials, **** /4 Highly Recommended.
"With heartbreaking honesty, Martin's debut novel gets into the mind of 16-year-old Nick Severson...His story challenges stereotypical notions of reckless teen sex and careless abortions; teen boys will especially applaud this portrayal of a devastated and conflicted young man who makes the right decisions, but still finds that his mistakes have repercussions."
— School Library Journal
"In this rare book that plumbs a boy's emotional roller coaster when a relationship comes to an end, Martin succinctly captures Nick's ferocious sense of helplessness . . .When Sasha finally makes a choice, Nick shines—as does this debut."
— Chicago Tribune
"The complexities of love lost/regained make for an outstanding selection for older YA readers."
— Midwest Book Review
"Readers will connect with Nick's emotional struggle and find him a very likable character. The book is quick paced, well written, and will appeal to a wide audience. Martin expertly handles the sexual content, depicting first time sexual exploration in a refreshingly realistic way. It is a perfect book to use as a springboard fordiscussing teenage relationships, sex and pregnancy."
— Children's Literature
"Every one of the readers will wish they could find someone like Nick to fall in love with. As YA novels go, this one is frank about sex—desire, control, contraception, and the pain when love doesn't work out between two people who truly care for one another. The details of the pregnancy, telling parents and close friends, the decision to have an abortion, the abortion itself and the aftermath— Martin doesn't shy away from anything."
— KLIATT

BLURBS
This book is compelling and unswervingly honest. It takes on real, complex issues with a light, deft touch. The second half broke my heart a little every page or so.


—

Jaclyn Moriarty

| author of

The Spell Book of Listen Taylor

and

The Year of Secret Assignments
I'm not sure I've ever read a story as heartrendingly genuine as I Know It's Over. C. K. Kelly Martin captures flawlessly the passion, rhythm and confusion of a sixteen-year-old boy. Censors be damned, this novel should be read by every teen in North America, and every parent.
— Catherine Gilbert Murdock | author of Dairy Queen
A powerful story, powerfully told. C. K. Kelly Martin has a laser eye for emotional detail.


—

Jordan Sonnenblick

| author of

Notes from the Midnight Driver

and

Zen and the Art of Faking It
A trip not only into the heart and mind of a teenage boy, but also into the confounding collision between sexual impulse and sexual restraint. A wrenching but utterly compelling read.
— Kathleen Jeffrie Johnson | author of The Parallel Universe of Liars
A great read. This one will appeal to fans of Sarah Dessen and John Green.
— Lara M. Zeises | author of Bringing Up the Bones and Anyone but You

✮

Paperbacks available from Barnes and Noble | Amazon.ca | Amazon.com | Amazon.co.uk | Books-A-Million | Book Depository | Fishpond | McNally Robinson | Amazon BR | Amazon AU | Amazon.es | Amazon.de | Amazon.it | Amazon.fr
✮

ePubs from Kobo | Apple | Barnes and Noble | Smashwords | Angus & Robertson | Walmart |
✮

Kindle copies from Amazon.ca | Amazon.com | Amazon.co. uk | Amazon.it | Amazon.fr | Amazon AU | Amazon.de | Amazon.jp | Amazon BR | Amazon.es |