THE LIGHTER SIDE OF LIFE AND DEATH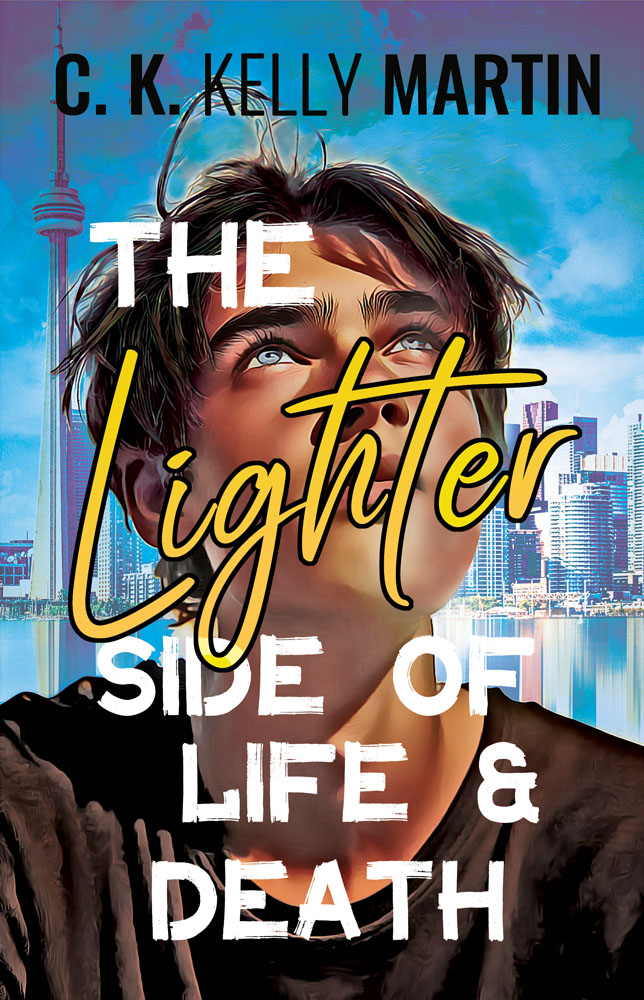 Sixteen-year-old Mason Rice is having the night of his life. He's just delivered an incredible performance in the school play, basked in celebratory afterglow vibes at the party of the year, and lost his virginity to one of his best friends—the gorgeous but previously unobtainable Kat Medina. His dreams are coming true, and the future looks golden.

Unfortunately, Kat sees things very differently. Crossing the friendship line was a big mistake, and all she wants is to forget it and move on, even if that means forgetting Mason altogether. What's a guy to do? Well, if you're Mason, you hang your hopes on the first attractive twenty-three-year-old you cross paths with. At first Mason wonders if he's imagining the chemistry . . . until Colette invites him over to her apartment. Suddenly Mason's living in a whole new world.

The Lighter Side of Life and Death is the sexy, soulful story of one confused boy, two girls, and all the complications that ensue—a romantic feel-good love story that celebrates friendship, first love, first

lust

, and second chances.

✮

READ CHAPTER ONE

|

✮

SEE PLAYLIST

originally published by Random House

©

2010

Current edition

©

2017 ISBN-10

: 1548693146

ISBN-13

: 978-1548693145

Reading level: Young Adult and up

Random House, 2008
0375845666 (ISBN13: 9780375845666)


Reading level: Young Adult & Up

- See more at: https://theportableartist.hypermart.net/ck/ikio1.htm#sthash.kcClSBxu.dpuf Random House, 2008Random House, 20100375845887 (ISBN13: 9780375845888)Reading level: Young Adult and up

✔
Booklist Magazine Top 10 Romance Fiction for Youth 2010 list
✔
Bank Street College of Education's Best Children's Books of the Year list
✔
Starred Review, Booklist

A more genuine representation of teen life would be hard to find.

"Martin is at her best when she is inside a single boy's head...Her portrayal of Mason's lust-fogged state is almost comic as every moment of his day becomes a tug to focus on something other than the vision of Kat naked or his next encounter with the very sexy Colette . . . In the midst of all the relationship drama, the truth of the title sneaks up on readers with a sly little wink—that all these matters of life and death, such as sex between friends, age difference in relationships, and blending new families, are only as serious as you make them out to be.
— The Bulletin of the Center for Children's Books
This narrative will keep readers interested as it moves from shamed encounter to forbidden relationship. For female romance fans, the story allows a peek into the teen boy's conscience and explores the emotional consequences of sex without being preachy.
— School Library Journal
Martin seems to truly understand, care for and enjoy the characters she has created. As in I Know It's Over, she speaks from the point of view of a male teen and manages to capture the love, the lust, the confusion, the hurt and a myriad of other emotions . . . There are party scenes and sex scenes, but Martin is empathetic and gentle with her teenage characters, allowing them the freedom to explore and experience without judging them.
— CM Magazine: Canadian Review of Materials, **** /4 Highly Recommended.
Martin gives Mason a relatable voice ("I've never stalked anyone before; how do people do this?") and offers a refreshingly sincere perspective on early relationships.
— Publishers Weekly
Ms. Martin hits on a very volatile subject—teenage sex—and deals with all the confusion and angst that goes along with it...The story teaches the reader about the complexities of love, safe sex, and the value of relationships and friendship.

"C.K. Kelly Martin's The Lighter Side of Life and Death tells of teen Mason Rice, who is gaining fame from a school play and a gorgeous girlfriend. His dreams seem to be coming true, but inside he's filled with angst in this story of complex friendships and his puzzling involvement with an older woman.
— Midwest Book Review
"A story about a boy juggling his new-found sexuality, changing relationships, and a new family all at once, this novel follows the journey that will change his life forever.
— AlAN Review
Random House, 2008
0375845666 (ISBN13: 9780375845666)

Reading level: Young Adult & Up
- See more at: https://theportableartist.hypermart.net/ck/ikio1.htm#sthash.kcClSBxu.dpuf Random House, 2008Random House, 20100375845887 (ISBN13: 9780375845888)Reading level: Young Adult and up

✮

Paperbacks available from Barnes and Noble |
Amazon.ca | Amazon.com | Amazon.co.uk | Books-A-Million | Fishpond | Book Depository | McNally Robinson | Amazon AU | Amazon.es | Amazon.de | Amazon.it | Amazon.fr | Amazon JP |
✮

ePubs

from

Kobo | Barnes & Noble | Apple | Smashwords | Angus & Robertson | Walmart |
✮

Kindle

from

Amazon.ca | Amazon.com | Amazon.co.uk | Amazon BR | Amazon AU | Amazon.de | Amazon.fr | Amazon.jp | Amazon.it |