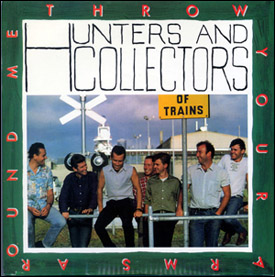 If you listened to much popular music during the 80's you'll likely remember this amazing Hunters and Collectors tune from its 1986 release. And if you're Australian, I believe it was almost considered an unofficial national anthem.
In my opinion
Throw Your Arms Around Me
remains one of the best love songs ever recorded. Over the years, I keep coming back to it and yesterday I got completely waylaid, watching and listening to various versions of the song.
If you've never heard it, trust me, you want to and if it's been awhile, well, you definitely want to listen again and if, like me, you've been listening on and off for years, well then I don't need to explain myself at all, do I?
Hunters and Collectors original:
Hunters and Collectors (slow version):
Joss Stone and Paul Dempsey cover, live
Neil Finn cover:
Pearl Jam cover:
Paul McDermott, Richard Fidler, and choir (song starts @ 40 second mark):
Out of the Blue (Oxford all-male acappella group) cover:
Finn brothers in Sydney
Mark Seymour solo on Aussie TV, March, 2008 (song starts @ 1:13)
Luka Bloom Cover