So I'm in the middle of line edits for book 5 but I couldn't let another day go by without announcing some very exciting news—
My Beating Teenage Heart
is
Amazon's Best Book of the month in Young Adult for October
. See it on the right side of the page there? Wow. I'm so excited to see it up there with
The Scorpio Races
(Maggie Stiefvater),
The Death Cure
(James Dashner) and
How to Save a Life
(Sara Zarr). Pinch me!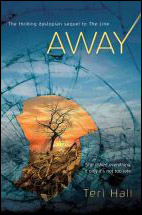 I also want to point you in the direction of a wonderful
review for the book up at Mabel's Fables
. This stunning review by Shanti makes me very proud indeed. I noticed a fabulous
review of Teri Hall's Away
(the sequel to
The Line
) posted there too. Having loved
The Line
I'm really excited to read this sequel. Hopefully soon after those line edits are done! With a deadline two days after Canadian Thanksgiving (October 10th), though, I'm going to have to pause book-work on the weekend to bake a couple pear pies. My stomach is getting grumbly at the thought.
I'll also be pausing to vote in Thursday's provincial election, of course, and I'm hoping a whole lot of Ontarians are as worried about what a
Conservative hat trick
would do to this place as I am.