I'm an absolute sucker for those miniature Christmas villages people set up on their mantelpieces at this time of year. If I had boundless room my own village would no doubt expand to the point where it would, in fact, be so large you'd have to call it a town.
Recently my dad told me about a fantastic Christmas display in Campbellville that features a collection of these Christmas villages as well as lights, animated boxes and more. So this past Sunday Paddy and I drove up to The Stonehouse in Campbellville to visit the Singleton family's Christmas lights display. It's open to the public free of charge from mid-November to the end of December and donations made on sight go to Halton Women's Place for its Children's programs.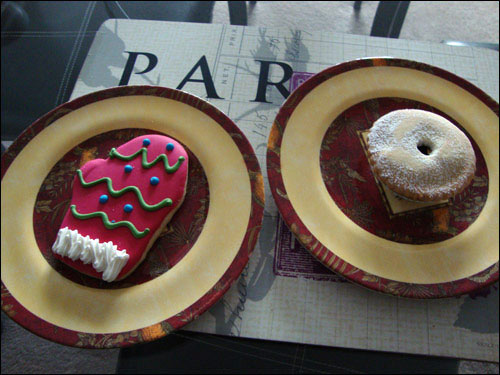 The display is totally charming and I swear I've never heard a kid filled with such excitement as the young girl who, during our visit, squealed with uncontainable glee from behind us. "I love this!"
I've posted a selection of photos from our visit below, starting with the fuel we ingested before our visit — a sugar cookie (mine) and mince pie (Paddy's) from our local bakery here. In one of the snaps you can even see me doing an amazing skating stunt!