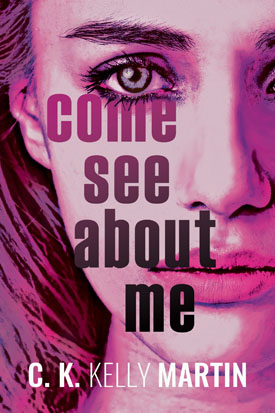 I think I may just have set a record for days between my blog entries. The short trip to Montreal in early May aside, it's been all WIP all-the-time. But now I'm going to catch you up a bit, starting with the
Come See About Me
cover change. When I released my new adult book last June, it was with cover number one (pictured below). Browsing through tons and tons of stock photos for purchase this melancholy looking girl seemed to perfectly represent main character Leah's emotional state for much of the book. Physically she's the right age and type too. But one of the interesting things about self-publishing is that content and covers need not be set in stone.
While
Come See About Me
remains exactly the same story as it was last summer, in early fall of 2012 I altered the cover a little. I liked the idea of having Leah and Bastien's relationship appear on the cover—the sight of what Leah has lost. You'll notice the third cover is extremely similar to the second. Ultimately I wasn't happy with the white band in the centre where the title appears on cover two. I still like this third cover better than the second but I missed the simplicity of that lone image of Leah. So after some many hours in Photoshop trying to hone that image and simplify it futher, I arrived at the current and final cover of
Come See About Me
. If you've watched my web page over the years you know I can tinker with graphics forever and a day, but I'm not going to do that anymore with this cover. I'm finally wholly satisified with it.
The new cover already appears on Amazon, Kobo, Barnes and Noble, iTunes etc. but it takes awhile for the changes to filter down to various vendors so you may happen to see it with an older cover up for sale somewhere. If you purchase a paperback copy through
Amazon
or
CreateSpace
this is what the jacket will look like!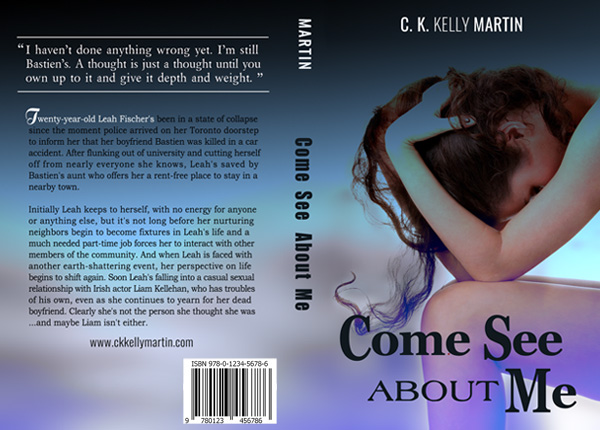 Something I want to point out for anyone who enjoys middle grade adventure stories of the Choose Your Own Adventure/Which Way variety is that I've posted for free a similar style book I penned at seventeen/eighteen. It's called Indigo Island Adventures and netted me my first publishing rejection when I sent it to Bantam in 1987. You can click the below cover to download your own pdf copy. It's suitable for readers 9 and up and typing it into Word I still got a kick out of it all these years later.

In just over three weeks I'll be heading off to Ireland for the annual visit which means it's about time I posted something about our trip to Montreal. The Billy Bragg shows in both Toronto and Montreal were fantastic (as always). But the Montreal gig was especially enjoyable because it was at such an intimate venue. Here's a clip of Tank Park Salute from that night (May 5, Club Soda, Montreal) shot from the vantage point of the balcony:
and here's a snippet from
Sexuality
that same night:
The Montreal magic started on our train journey from Toronto when a crying baby prompted an older gent a few rows up from us to treat our entire car to a beautiful rendition of
I'll Be Seeing You
. And the magic never let up. Every day of our early May trip was a perfectly sunny 24 - 27 degrees Celsius. It was as if summer arrived on May 5th, the day we stepped off the train in downtown Montreal, and funnily enough it hasn't been as consistently warm since. Because I've snapped plenty of photos of Montreal in the past I didn't take quite so many this time, but there are a few below. And you can click check out my Montreal snaps from
April 2010
,
April 2011
, and
December 2007
.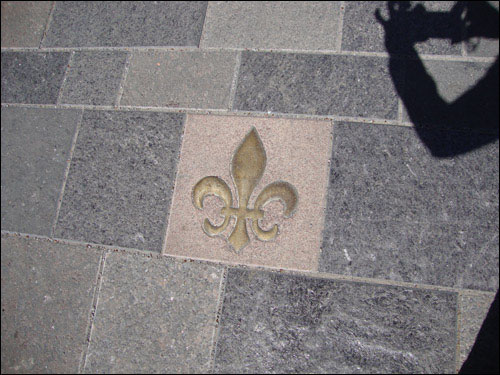 Outside Notre-Dame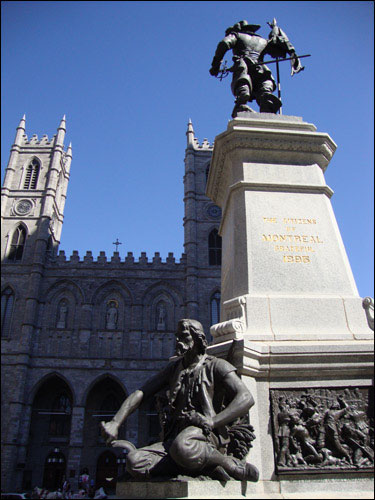 Place Jacques-Cartier, Old Montreal.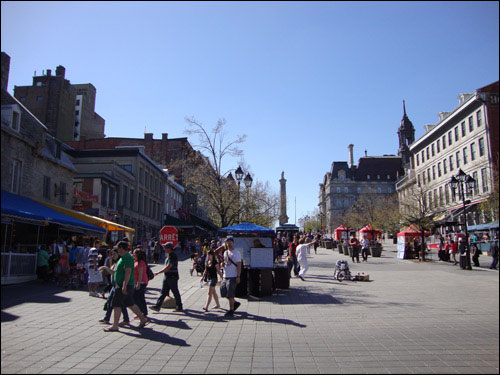 Shop front in Old Montreal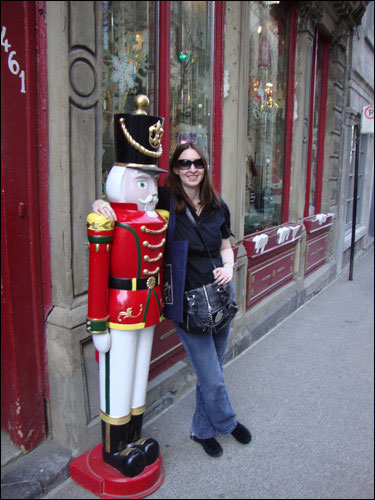 Square St-Louis
was closed for construction while we were in town (don't miss this spot if you're heading to Montreal during fine weather, it's one of a kind), dashing out hopes of having an ice cream there. But there were still a handful of people in the park and after some observation we discovered the gap in the fence.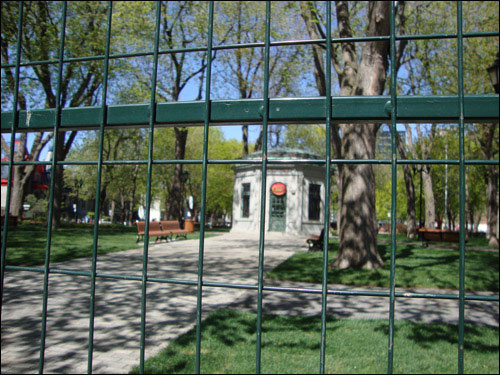 so couldn't resist heading inside anyway.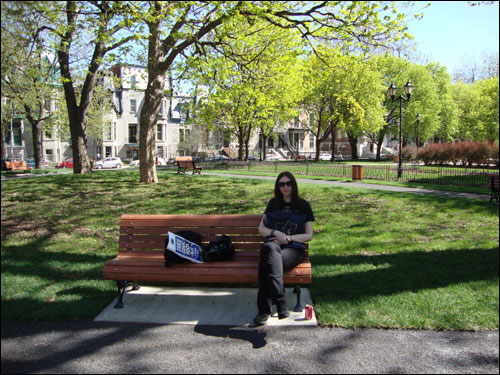 Billy Bragg on the marquee, Club Soda, May 5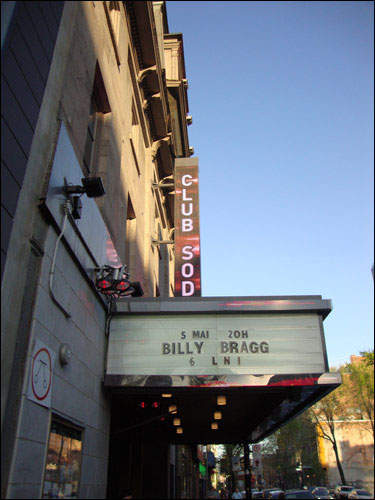 Having lunch at
St-Viateur Bagel
on the Plateau-Mont-Royal. I would eat lunch here every day if I could and in this photo I'm smiling extra hard in anticipation of a scrumptious bagel lunch and knowing that back-lit you won't be able to see me (not a huge fan of getting my photo taken).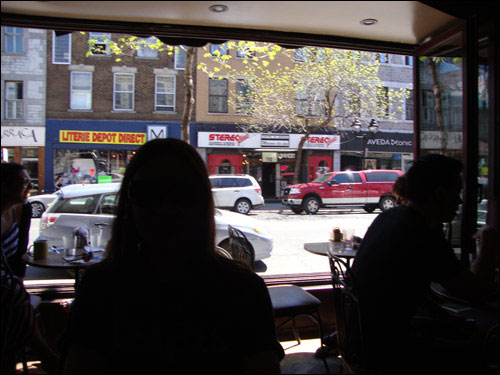 Cool shop on the Plateau-Mont-Royal where I bought a neat courier bag. But, yeah, the Coca-Cola stuff helped draw me in.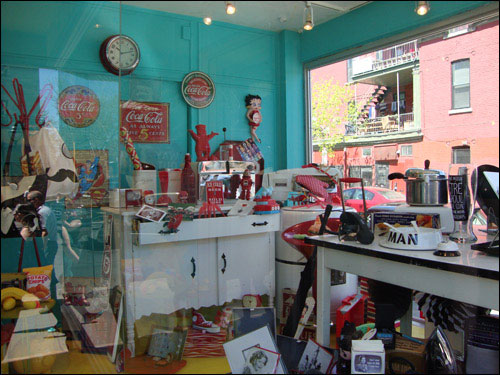 Ah, the architecture!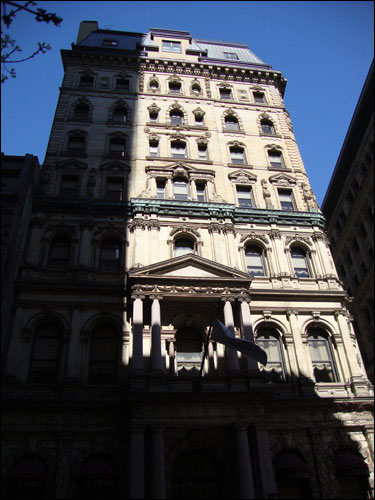 Merci, Montreal! À la prochaine.