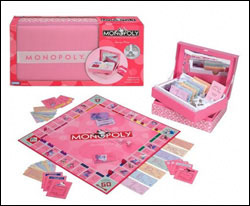 Between tackling some minor copy-editing on
The Lighter Side of Life and Death
and working obsessively on my current book I haven't been around much but there have definitely been things I've wanted to link to lately so I'm going to pass some of them on now.
First,
RAINN
(the Rape, Abuse & Incest National Network) is hosting a poster contest for their college campus campaign. "The winning poster will be used to promote sexual assault awareness on college campuses all over the U.S., reaching over 1 million people nationwide. The winning artist will be mentioned on our website (rainn.org) and have their design downloaded and printed for display by schools and crisis centers!" The deadline is Friday, November 13th so if you're an artist who wants to do some major good with your work, check out the
details here
.
Kate Townshend, a writer and teacher, has a very informative blog entry up at
The F-Word
about the
gender bullying going on in primary school playgrounds.
Kate writes, "it seems obvious in some of the schools I go into that the boys know things are weighted in their favour, at least in the short term. By 11, they have already learnt that calling a girl fat effectively finishes the argument. It doesn't matter whether she is actually fat or not. It has become a code word which makes it clear that since female self worth is built upon looks, it is easily destroyed by male indifference or antagonism."
The U.K. based
Pink Stinks
campaign believes, "that body image obsession, is starting younger and younger, and that the seeds are sown during the pink stage, as young girls are taught the boundaries within which they will grow up, as well as narrow and damaging messages about what it is to be a girl." Pink Stinks aims to, "redress the balance by providing girls with positive female role models chosen because of their achievements, skills, accomplishments and successes."
Be sure to have a look at their
name & shame
page, where they highlight some of the worst marketing aimed at girls.
The Washington CityPaper posted an article about the sex ed gender divide
revealed by a survey of about 250 District high school students' thoughts on sex ed. "According to the study, young women expressed a greater interest—and perhaps difficulty—in speaking openly about personal sexual issues" with sex partners and health educators. Young women also said they had a tough time talking about sex with their parents. "Male participants reported an easier time talking about sex with their parents than the female participants." Heterosexual girls in the study expressed a greater acceptance of GLBTQ youth and "were more likely to desire an increased visibility for GLBTQ issues in the sex ed curriculum." While locked drugstore condoms produced shame and frustration in both males and females, it was the girls in the study who expressed shame in
carrying
condoms. "Young women are afraid that they will be judged as promiscuous by others or misunderstood by their partner if they carry condoms. To avoid misperception, some female focus groups participants reported leaving the responsibility to their boyfriends."
Finally, I saw the below clip on
Broadsides
(Antonia Zerbisias's Toronto Star blog) yesterday.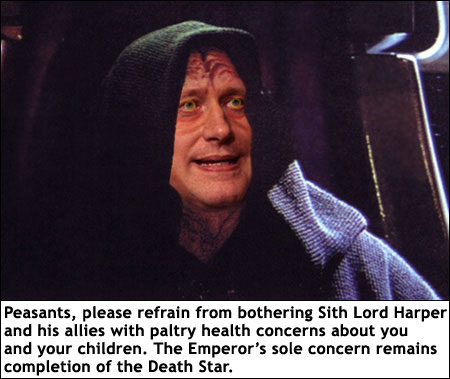 Sure Prime Minister Harper gets by with a little help from his friends, we just shouldn't go getting confused that common citizens are of any concern to his government. It's all about the Death Star with him, same as it's always been.