Yesterday my editor emailed me that my new book,
The Lighter Side of Life and Death
, has received a starred review from Booklist! The review will be in Booklist's March 15th issue but since
Random House Kids tweeted about it
I figure I'm okay to mention the star and this quote from the review: "A more genuine representation of teen life would be hard to find." Thank you, Booklist! That made my day. May 25th still feels like a long time off but seeing that wonderful review made the upcoming release feel more real.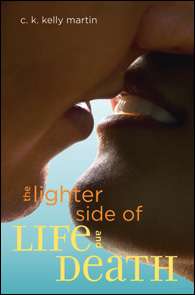 In other book news,
I Know It's Over
is now out in Bulgaria and I'm eagerly awaiting my author copies. Dying to see what they've done with the cover and would love to hear from any Bulgarians who have read the book!
I've been continuing to watch lots of the Olympic coverage (am really going to miss them once they're over) and have to say how terrific it's been to see what an
amazing Winter Games this has turned into for Canadian women
! Thirteen of our seventeen medals so far have been won by women. Figure skater
Joannie Rochette is not only a wonder, but a study in courage
, giving her all even in the midst of fresh grief. My heart ached watching her long program last night and I don't think there'll be a more meaningful medal won in these games.
I've blogged about Johnny Weir a couple of times recently:
Stay Gold, Johnny
Winter Games
and would be remiss not to mention the supreme grace and candor with which he's handled the intolerant and idiotic remarks by sportcasters Alain Goldberg and Claude Mailhot:
Weir has an inner light—a grace, strength of character and egalitarian beliefs which are an inspiration to us all (the people who would praise him for his individuality and the ones who would mock him for it).
"I think masculinity and femininity, it's something that's very old fashioned. There's a whole new generation of people that aren't defined by their sex or their race or by who they like to sleep with. I think as a person you know what your values are and what you believe in and I think that's the most important thing."



I couldn't agree more. Ahh, Johnny Weir, you are glorious!