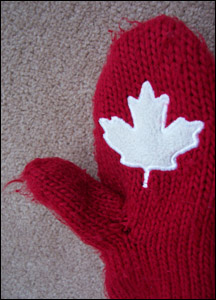 My red and white Olympic mittens are looking a bit out of sorts these days—they've been mucked up, come out of a velcro encounter worse for wear, were spun in the washing machine and then the dryer only to subsequently be attacked by prickly wooden splinters (from clutching a rally sign while being on
protest
with me). As a result, they're battered and fuzzy as hell but I still love them and they still keep my hands warm. I actually have a pristine new replacement pair lying in wait but I don't know...somehow I haven't been able to put the old mittens aside. Maybe when the Winter Games are over I won't feel quite so sentimental about them and will finally go through with the switch over.
Speaking of the Olympics, congrats to our newest gold medalist Jon Montgomery for his awesome performance in skeleton on Friday! This is one of the events I tend to wince while watching. You gotta be fearless to hurtle yourself down a track like that, head first on the smallest of sleds. Could hardly be more terrifying if Freddy Krueger, Michael Myers and Jigsaw were chasing you down the track.
The zip line over Robson Street is closer to my speed. I'm hoping it stays up post-Olympics because I'd love to ride it the next time I'm in Vancouver. Check out the fun:
And I'm including some Johnny Weir love here (a 2009 performance to
Poker Face
at Festa on Ice) because I'm with the folks who think he was underscored in the men's figure skating final. Don't let the judges get you down, Johnny. You rocked!
Finally, I'm a bit disappointed about the U.S. hockey win yesterday but tip my hat to Ryan Miller. Good luck to Team Canada on Tuesday!