We went to the annual
British Isles show
in Toronto yesterday and came home poorer: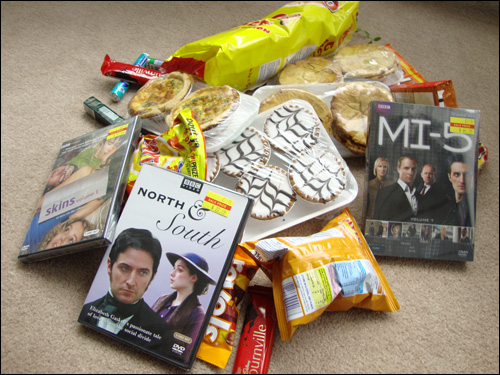 There were many more DVDs I could have bought—
Cranford
,
Return to Cranford
,
Second Sight
,
Lark Rise to Candleford
,
Skins
season 2 and additional seasons of
MI5/Spooks
that I've missed over the years but I did try to exercise
some
restraint. However, there is a packet of Tayto crisps (bacon flavour) missing from this photograph as I'd already devoured them.
I'm not a
Coronation Street
viewer but every year a past or current member of the cast does a signing at the show and this year, in honour of
Coronation Street's
fiftieth anniversary, they featured two stars instead of one. Katherine Kelly and Antony Cotton, flanked by security on their way to the sold out signing area, walked right by us as we stood loitering with our bags of goodies, eyes glazed over from hours of perusing British and Irish wares.
You'd think this was enough Britmania for one day but no, we had the pleasure of being able to watch the first episode of the current
Doctor Who
season later that night. And, you know, as much as I miss David Tennant I have to say Matt Smith did a bang up job. I'm looking forward to a weekly Saturday night date with wackily surreal sci-fi delivered with an English accent. If I'm lucky I might even have some tasty British or Irish treats left to snack on during the show!