I spent most of the weekend hanging out in downtown Toronto, where, luckily, the expected thunder and rain never showed and instead we were the recipients of persistent sunshine. But apparently by last Friday more than six kilometres of fence had been erected downtown in preparation for the G20 summit and as a result it looks pretty bizarre around there these days.
The imposing looking fences strongly reminded me of zombie movies
28 Weeks Later
(where they'd divided London into safe and unsafe zones during their reclaiming process) and
Land of The Dead
(where Toronto stands in for the walled city, which the last remaining humans inhabit in relative safety). Because of this I kept having visions of zombies breaking through barriers and barrelling up Bay Street (this is what happens when you've watched too many zombie movies over the years!).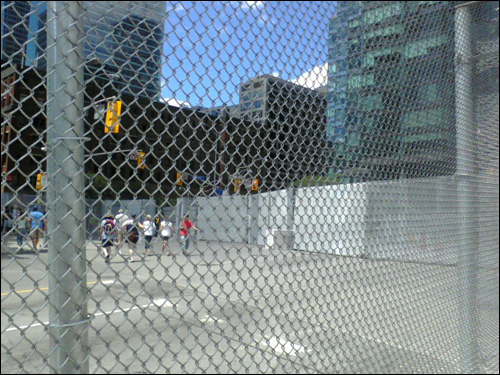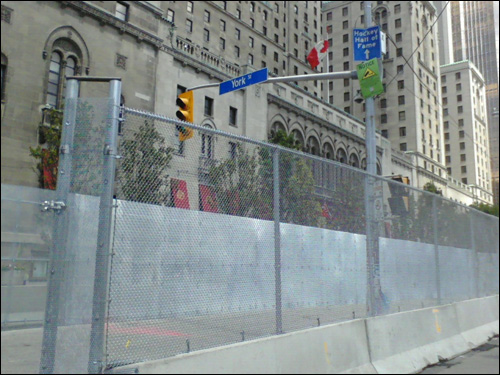 The fences weren't the only sign of the impending G20, the place is absolutely crawling with clusters of cops. I don't think I'd ever spotted so much as a lone police office in trendy Yorkville before yesterday but there they were sauntering along in the humidity in black and as we walked south we continually passed groups of police on feet and on bicycles. Too, most garbage receptacles have been taken off the streets and replaced with clear plastic bags wound around various posts.

Seeing all of this on a perfectly calm and pleasant summer's day gives the city a very surreal feeling. Toronto is in waiting mode, the calm before a storm which I hope never actually happens just like the forecast weekend thunder that never arrived.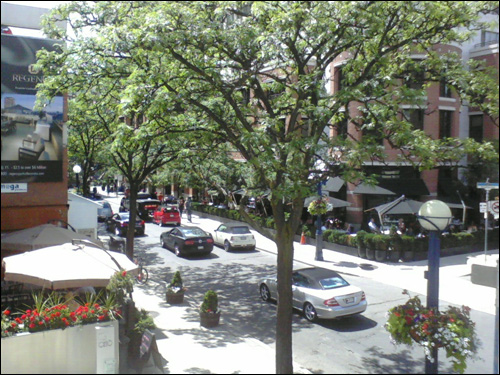 Over the weekend I also continued my streak of films with strong teenage female central characters by watching
Winter's Bone
. It won the Grand Jury Prize at Sundance this year and though its bleak tone reminded me of
Fish Tank
, Mia from
Fish Tank's
biggest problem was her aimlessness, while seventeen-year-old Ree in
Winter's Bone
is forced to carry a load of responsibility that would make people twice her age buckle (and has, her mother remains mute throughout the movie). Ree and her family live in the Ozark Mountains, surrounded by poverty and drug addiction. Her father's supported the family by cooking crank, but as the movie opens he's skipped bail and unless Ree can find him her family home which her father put up as bail bond, will become public property and render Ree and her young brother and sister homeless.
Ree's dogged inquiries about her father take her into the homes of people you wouldn't feel comfortable looking in the eye (lest they decide they don't like it). Even these people's brand of kindness has a harsh edge to it but Ree is unrelenting in her quest and Jennifer Lawrence, who plays her with quiet tenacity, is destined to have a brilliant career.