Having watched two wonderful movies at the
Toronto International Film Festival
over the weekend, I was already in a giddy mood when I discovered CM Magazine's terrific new
review of The Lighter Side of Life and Death
yesterday. Yup, it's going to be tough to match last week for thrills!
It's not every week that you receive a four out of four star review from a literary review journal, not every week that you're lucky enough to watch movies along with Robert Redford and Colin Firth and not every week that you get a chance to (technically!) spend part of Colin Firth's birthday with the esteemed actor. Check out the 2:35 mark in the below clip where director Tom Cooper introduces Colin Firth and the audience proceeds to sing Happy Birthday to him.
The King's Speech gala:
The Conspirator gala:
However, I still have one more festival screening to look forward to! Around about the same time I'll be diving back into editing mode for
My Beating Teenage Heart
so I suppose you'll just have to trust me when I say that if I get quiet shortly it's
not
because I'm watching too much YouTube or generally slacking off but because I'm working diligently away.
I hope that if you're in the Toronto area you're partaking of some festival goodness too! It's not really fall until the TIFF's finished —just one more reason to love the film festival.
**********
Roy Thomson Hall September 10th, 2010: Tom Cooper, Colin Firth, The King's Speech screenwriter David Seidler and one of the films' producers.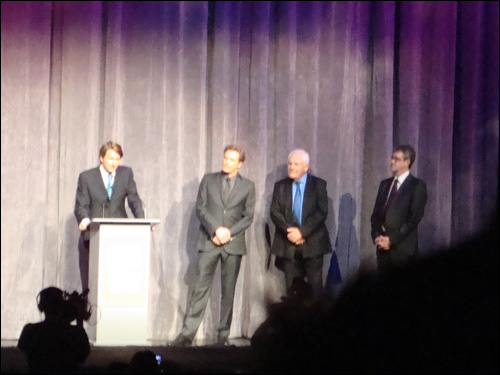 Roy Thomson Hall, September 11th, 2010: Robert Redford, Robin Wright, James McAvoy (who was outstanding in the role of lawyer Frederick Aiken an initially reluctant crusader for justice) Kevin Kline and James Badge Dale await their fellow cast members on stage.