Two weeks ago I wrote a
post lamenting the disappearance of physical stores
as entertainment (movies, music and books) continues to go digital. Since then Borders have announced they'll be closing 200 stores across the United States and the media are pondering whether this is the beginning of
the end of bookstores
.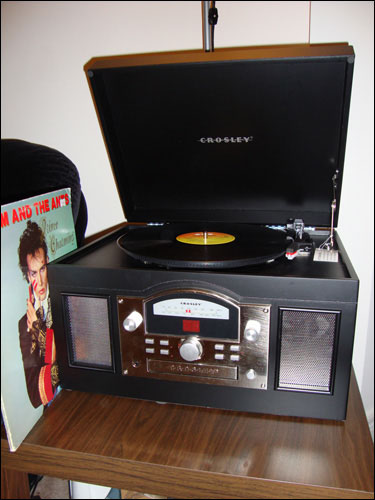 It stands to reason that in an era where people value portability and instant access to material, physical stores would suffer. But
I, for one, have never gotten over record stores
. I
love
to flip through the racks and to me a digital file is no replacement for a physical copy of a book, film or album. If I'm a big fan of a novel or album I want the artwork (and lyric sheet!) that goes along with it and helps create an overall vibe for the work.
Granted, I grew up in a time when music was sold mostly on tape, which was an intensely crappy storage medium (I can't even begin to guess how many tapes I killed through over-listening in the 80s or how many I temporarily saved by unspooling them and working out the knots). It's also pretty impossible for artwork to look truly impressive at such tiny dimensions. But vinyl albums, now they were really something. A presence to be reckoned with.
So not only am I shunning e-book readers for the foreseeable future, we've actually gone and bought a record player so we can start adding some vinyl back into our collection! The above is a USB turntable (as well as a CD, tape player and radio) so we can still create digital backups of the music if we want to. As you can see from the photo we've already hit some Toronto record stores. Having just picked up the record player last weekend I'm obviously no expert on where in the city to buy vinyl but after some Googling I discovered this extremely helpful article on
The Best Vinyl Record Stores in Toronto
. We hit four of the Queen Street West stores today—
Criminal Records
, Cosmos,
Hits & Misses
and
Rotate This
—and I was really impressed with them all. It was such an amazing feeling to flip through all those vinyl albums that I don't know why it didn't occur to me to buy a turntable earlier!
Equally ridiculous is the fact that it's taken me this long to buy an
Adam and the Ants
album. Honestly, I don't know what happened there and have only myself to blame for this oversight. I'm in the process of remedying the situation and so far have picked up a copy The Essential Adam Ant CD and an original vinyl copy of Prince Charming (their third album).
For the benefit of those of you who are younger than me, or who missed the Ants invasion of the early 80s for whatever reason, here are a couple of clips from a Tokyo Adam and the Ants concert in 1981. I'm telling you, if my record player could double as a time machine I'd be whipping back there to catch this gig pronto!

Car Trouble:

Stand and Deliver:
While I'm on the subject of music magic I'm also extremely happy to say that I have tickets to see
The Airborne Toxic Event's
upcoming Toronto show. I missed them the last time they were in town but their 2008 debut was, no joke, the best album I've heard in a decade. Here's a track from it:

Gasoline:
And my very favourite Airborne Toxic Event tune,
Innocence, a song which I've come strongly to associate with my book, My Beating Teenage Heart
:

Their new album, All at Once, will be released on April 26th.
I hope, wherever you are, you're taking advantage of the physical bookstores and record shops nearest you! Digital is sure handy but there's nothing quite like being surrounded by oodles of bookshelves or stacks of recorded music to get you excited about books and music past and present.

***Update, February 27th***
Matt Everitt:
"It sounds like it's been more of a battle than I think people assume maybe with your career early on."

Adam Ant:
"Well, I think everybody has to realize if you want to be in rock and roll it's work, it's a job and it's seven days a week fight until you're at number one and then when you're at number one it's a lonely place cuz the only way is down and to stay there, I felt the four things you need are success, survival, longevity and consistency. I've had all three but consistency is the hardest."