We've come to the end of another year and once again I'm without a favourites of the year list of any sort (although I will happily share that my favourite read of 2013 was actually a 2009 YA novel called
Raw Blue,
by
Kirsty Eagar
, and at this very moment I'm falling in love with
Jo Baker's
Longbourn
).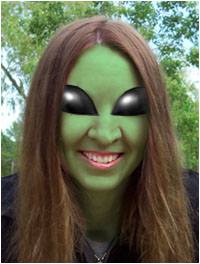 Alien C.K.
Instead I'm offering a brief list of another kind entirely—some ways you'll know if I've been taken over by an alien interloper in 2014 (not that I'm expecting such a fate, but one can never be sure!):
• If I say, without any hint of sarcasm, that Toronto mayor Rob Ford is doing a good job
• ditto Canadian Prime Minister Stephen Harper (
aka the Grinch who Stole Canada
)
• if I mention having gone to a spa or gym or having had a pedicure/manicure
• if I use the words 'bromance' or 'man cave' without ridiculing the terms
• if I say I can't wait for the latest new adult romance between a tattooed, womanizing, bad boy type and the 'relucant' girl he wins over
• if I tell you I watched
Game of Thrones
last night
• if I say Matt Smith played the Doctor better than David Tennant
• if I say 80s music sucks
There are countless more warning signs, to be sure, but if any of the above biggies occur in 2014 please contact
CSETI
(the Center for the Study of Extraterrestrial Intelligence) and inform them of what's happened! Then hopefully a rescue attempt can be mounted for me.
Happy New Year everyone! And don't forget to post your own Body Snatchers Warning Signs list so that you have a chance of being saved if you're taken over by an alien life form.