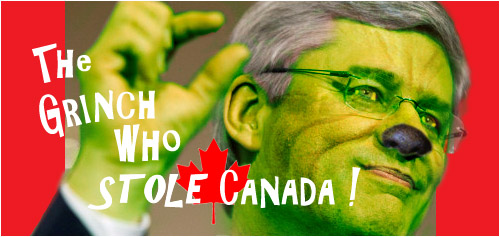 Canadian Prime Minister Stephen Harper has gotten into a pissing contest with the Grinch, insisting his own heart is at least four sizes too small compared to the Grinch's two sizes too small.
At this point the majority of Canadians probably have no problem agreeing with Harper's assessment that he has the smaller heart. But should you still require proof, you might want to check out this recent
Toronto Star article
detailing the Conservative government's dismantling of social programs that were built over generations. Thanks to Harper's government, Canada has become a meaner place to live, something the Grinch never accomplished with Whoville.

Congrats, Stephen. You should be ever so proud.