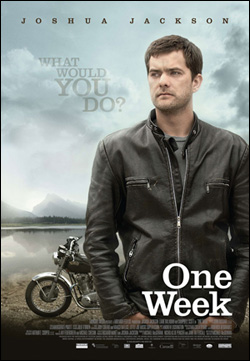 Early this afternoon I was walking down Front Street in Toronto with Paddy, talking about Canadian TV show
Being Erica
, when he told me that Margaret Atwood had just walked by. She'd seen him notice her and had smiled at him so he'd said hello. All this while I was obvliously chattering away about the great Toronto locations (the Distillery District, Yorkville, Centre Island, Front Street, Casa Loma etc.) being featured in
Being Erica
.
To top it off we were on our way to watch Canadian road movie
One Week
at the time. So quite the Canadiana moment all round!
Every second review of this movie I've read (possibly more) have described
One Week
as a love letter to Canada and, indeed, that's exactly what it is—with gorgeous scenery, references to national hero Terry Fox and Tim Hortons' roll up the rim contest, a musical soundtrack that includes tracks ranging from Sam Roberts
Hard Road
to French Canadian folk song
Un Canadien Errant
, a Stanley Cup encounter and a cameo by Gord Downie—Canadians, you gotta see One Week!
Not only is
One Week
beautiful and full to the brim with Canadiana, it manages to nicely sidestep the cheese factor that could've easily accompanied the material. Main character Ben (played by Joshua Jackson) is diagnosed with stage four cancer in Toronto as the film opens. He should be headed straight for treatment but with a diagnosis that says Ben may have a maximum of two years to live, he's adamant about stealing some time for himself before he becomes a patient. So Ben buys himself a motorcycle and drives west across the country, on his way to mile zero of the Trans-Canada Highway. It's a voyage of both internal and external discovery that I think Canadians will appreciate most but international viewers will also appreciate the film's charm, sincerity and breathtaking landscapes.
*
Read the Toronto Star's review of One Week
*
Visit One Week's official website
One Week Trailer:
George Stroumboulopoulos discusses One Week with Joshua Jackson on The Hour: