If you look on the Toronto Star webpage right now one of the headlines reads: "
Rain, rain here all day
." Indeed, it's been raining non-stop since I got up. So far July has pretty much been a washout—and oddly chilly too. Yesterday afternoon, which was drier but plenty overcast with a cool breeze, I was out walking around town and got the weirdest flashback sensation. For a split second I could've sworn I was in Ireland. Ireland in summertime.
Now, of course, there are some nice summer days in Ireland but in my experience they are in the minority—occuring rarely enough to be remarked upon. When the sun
does
comes out to play it's glorious and Dublin instantly looks ten times prettier. But there are days and days of gray, various shades of wet, and temperatures that make the concept of wearing a T-shirt feel like a fantasy.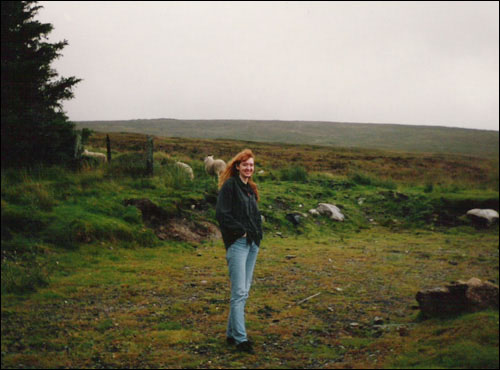 Anyway, so there I was yesterday, strolling around my Canadian town, suddenly awash in ancient Dublin feelings. Each place has a different feel to it and times have a specific feel to them too. In particular, as I walked, I was caught up in a Dublin in the early to mid-nineties vibe. And it felt so incredibly close, you know? Though it was long ago and oh so far away (like Karen Carpenter sings in Superstar) it felt like about ten minutes ago. The fact that it was 2009 and that I was miles away came as a shock.

There are some people, times and places you miss all your life, even if you're glad you've moved on. I'll always treasure the years I spent in Dublin and I'm guessing that even when I'm seventy-eight an overcast sky and some certain immeasurable quality about the air will yank my mind back there and make those times feel like just yesterday.