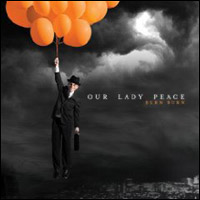 Hey, fellow Canadians! If, like me, you're a big
Our Lady Peace
fan and are excited about the release of the new album
Burn Burn
(which hits shelves next week) you might want to head over to
inMusic.ca
right
now
. Yup, you can preview the entire album over there right this minute. If you ask me today, my favourite track is Dreamland, but one of the fun things about getting to know an album is how your relationship to the various songs grows and changes.
I'm looking forward to listening to
Burn Burn
repeatedly and figuring out what the answer to that question is in two weeks time and two months time.