I know it's a wee bit early to start talking about favourite 2010 books and hell, I actually finished reading
This World We Live In
during the final days of 2009 but I'm confident that come the end of this freshly started year I'll still be raving about this no holds barred YA novel about the continuing struggle for life in a world forever changed.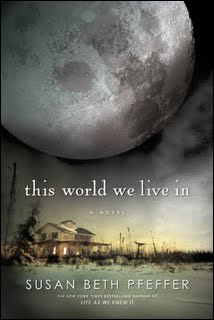 If you've read
Susan Beth Pfeffer's
previous two meteor books,
Life As We Knew It
and
The Dead and the Gone,
like me you're probably already hooked on Pfeffer's vision of the earth ravaged by a sudden and permanent change in the moon's orbit after its struck by a meteor.
In
This World We Live In
we learn what became of Miranda, the main character from
Life As We Knew It
, and T
he Dead and the Gone's
Alex. During the course of the novel both teenagers struggle with responsbilities and haunting choices they could scarcely have imagined before the planetary tragedy.
Death and destruction are all around. The sun no longer shines. Food is scarce and may stop showing up in Miranda's hometown any week now. Scavenged soap is a luxury. Safe cities (where vestiges of civilization like hospitals still exist) are few and space in them is reserved for those with connections. Can family ties survive in a world like this? Can genuine new love take root?
Susan Beth Pfeffer is fearless in what she reveals about characters we've already come to care about and the nightmare realities of a broken and bloody world. This isn't a story for the faint of heart but I highly recommend it to
everyone
else. If you can handle it,
This World We Live In
will be one of the best things you read all year.
Out February 17th!