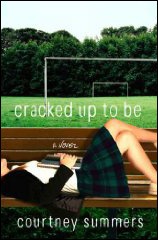 It's no secret that I've been looking forward to reading Courtney Summer's soon to be released YA novel, Cracked Up to Be. The first two chapters, posted on her website, made me tense. And not being able to continue on to chapters three, four, etc. and discover what had gone so terribly wrong in eighteen-year-old Parker's life that all she wants is to be left alone, cranked that tension up another several notches.

But I'm a-okay now. Having been lucky enough to win an advance reader copy, I spent the majority of yesterday on my couch, devouring Cracked Up to Be.

Parker Hadley, with a barbed wisecrack for every occasion, isn't an easy character to like but you'll like her anyway and so does Jake, the new
guy at school, and Chris, her ex. In many ways Parker's keen intelligence makes hiding her pain easier. She's always been a perfectionist—and as such is extremely hard on other people but Parker reserves the harshest judgment for herself. You'll have to wait until near the end of the novel to find out what the worst thing she's ever done is and that state of constant stress and expectation makes for speedy reading. I'm not going to drop any spoilers but I will say that Cracked Up to Be is completely absorbing and believable.

Courtney Summers is an extremely talented writer, determined to explore difficult truths and complex characters and relationships. Her first novel is a pointed reminder that we may not know the heavy things some of those closest to us could be carrying around with them.

Cracked Up to Be is everything I hoped it would be and I think Parker, with her bottomless yearning to be the best, would be very pleased with an ending which refuses to simplify her situation.

I'm very much looking forward to Courtney's second novel.