TV depictions of violence against women have risen dramatically in just the past five years (while violence that occurred irrespective of gender only increased 2%.) Depictions of violence against teenage girls increased by an alarming 400% in that same period. Those findings, by a
Parents Television Council report
, note that the portrayals of violence against women, especially young women, "with increasing frequency, or as a trivial, even humorous matter, the networks may be contributing to an atmosphere in which young people view aggression and violence against women as normative, even acceptable."
Recently a
public pro-rape Facebook group composed of students from a university in Sydney
was uncovered (and subsequently shut down) in the sports and recreation section. The commander of the NSW Police sex crimes squad, Detective Superintendent John Kerlatec, said when operational, the Facebook page - tagged ''pro-rape, anti-consent'' - was ''inciting people to sexual violence''. In
Richmond, California last month a fifteen year old girl was gang raped and beaten
for more than two hours while twenty men and boys looked on, laughing and snapping photos. In the province of
Ontario studies have shown that sexual assault against girls at school is so common that it's seen as the status quo
.
This is the kind of atmosphere our young girls are growing up in. Hostile. With so much violence (or threats of violence) directed at them and shown to them in the form of entertainment that it's become an unhappy normal. Is it any wonder then, that a
survey of Boston teenagers last winter reported that 46% felt Rihanna was responsible for the violent attack Chris Brown committed
against her and 52% said both were responsible, despite knowing that Rihanna's injuries required hospital treatment?
As well, young women today are relentlessly bombarded with media messages that tell them their worth is rooted in being attractive, that their life's ambition should be to exist in a state of hotness twenty-four hours a day, seven days a week. Much of the music industry glories in showing women purely as sex objects—and flawless ones at that. If you're unaware of the airbrushing that goes on in video, this
article in Uplift Magazine
is an eye-opener.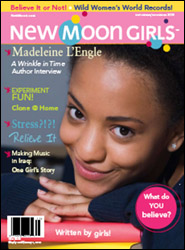 Obviously we need a hell of a lot more media out there ready to take girls' wellbeing into account and counter the overwhelming negativity (hooray for organizations like
PinkStinks
and
About-Face
!). And we need to fight to hold on to the good stuff like seven year old
New Moon Magazine
(100% advertising free) which is dedicated to lifting tween girls' aspirations, increasing their power, and giving them an outlet for their unique perspectives and voices. Unfortunately,
New Moon
has been hit very hard by the current recession and will have to close at the end of December if we can't help them out financially. I know it's a challenge for many of us to find extra money to donate to worthy causes during this economy, but take a look around a quick look around at the toxic media universe and you'll realize how important this is.
New Moon
says you can help by:
" Sponsoring memberships for libraries, schools and programs serving low-income girls. It's quick and easy to sponsor one, ten or 100 girls - every dollar matters!

" Buying memberships for all girls 8-14 that you know. Our holiday special saves you 50% after the first order.

" Telling everyone what you value about New Moon. Link to us, and follow us on Facebook and Twitter and share with your FB friends and Tweeps."