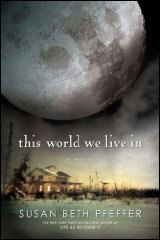 The odds must be against this (so you better believe I'm feeling lucky!) but yesterday afternoon both
Susan Beth Pfeffer
and
Catherine Ryan Hyde
emailed me to let me know I'd won copies of their YA books.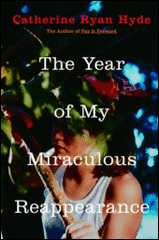 Actually, it's *two* copies of Catherine Ryan Hyde's book,
The Year of My Miraculous Reappearance
—one for me and one for my mom—and an ARC of Susan Beth Pfeffer's latest meteor novel,
This World We Live In
. I'm a huge fan of Susan's other meteor books (
Life As We Knew It
and
The Dead and the Gone)
and I loved
The Day I Killed James
and
Chasing Windmill
s by Catherine Ryan Hyde so I'm super excited.
Thank you, book gods!
I was also extremely happy to hear, just the other day, that
Mare's War
(by
Tanita S. Davis
) has been included on the Kirkus Reviews "Best Young Adult Books of 2009." And I'm keeping everything I can crossed for
2010 White Pine nominee
Cracked Up to Be
(by
Courtney Summers
) in the Ontario Library Association's Forest of Reading awards. It's great to see such terrific books get the recognition they deserve!