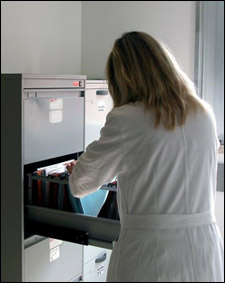 At long last Ireland has begun a national cervical cancer screening program
. As of today, all women between the ages of 25 and 60 will be offered free cervical screening. Samples will be taken by participating family doctors and tested in two U.S. laboratories.
This is a huge step forward for Ireland, which currently has one of the highest cervical cancer fatality rates in western Europe at 70 deaths from the disease each year.
One in five women living in Ireland have never had a cervical smear
test.
Unfortunately, the sexually transmitted disease HPV (
"some strains of which are potentially cancerous, and some which are direct causes of cervical cancer
") is hugely common. "Most sexually active adults will have HPV at some time in their lives" and "
at least one-third of all sexually active young adults have genital HPV infections.
"
If you think HPV isn't something you personally need to worry about, consider the following:
I've only ever been with one person.
1)
"Even people with only one lifetime sex partner can get HPV, if their partner was infected with HPV
."
I always use condoms.
2)
Correct condom usage helps lower chances of acquiring and passing on human papillomavirus but because HPV can infect areas not covered by a condom they don't offer complete protection.
I feel fine.
3)
Some cancers of the cervix have no symptoms.
He says he's fine.
4)
Currently, there is no test designed or approved to find HPV in men.
But back to what the new cervical cancer screening program will mean to Ireland. Experts predict
"that a combination of (HPV) vaccination and cervical cancer screening could prevent up to 95%"
of cervical cancer cases.
The earlier the condition is diagnosed, the better the outcome
. This is why regular pap smears are
crucial
—something women everywhere should be mindful of (whether you've had the HPV vaccine or not). If you've recently become sexually active and/or are going to be making your first gynecology visit soon, check out
Scarleteen's article on the subject
to demystify the experience. Aside from HPV there are a ton of other
sexually transmitted diseases
to watch out for and in this regard safer sex practices and doctor visits are amongst your best defenses. Stay healthy!

Some Additional Reading
Genital HPV Infection - CDC Fact Sheet
Safe, Sound & Sexy: A Safer Sex How-To
Condom Basics: A User's Manual
Misconception Mayhem: Separating STI Myths from Facts
Testing, Testing...